30 Under 30 2019
Recognizing next generation leaders
By Journal of Property Management
IREM's 30 under 30 for 2019 are proving that the next generation of real estate management professionals are ready to lead and make a difference for their employers and clients, their residents and tenants, and their communities. Together they:
Manage multifamily communities, student housing, office buildings, shopping centers, homeowners associations, industrial property and mixed-use developments
Hail from Japan and South Africa as well as the United States
Lead professional organizations and are engaged in neighborhood groups
Work with large companies and small, provide third-party management services and work for owner/operators
Hold the CPM designation (5), ARM certification (6), ACoM certification (4), CPM Candidate status (15), and Associate membership (5)
Learn more about IREM's 2019 30 under 30 at www.irem.org/30under30.
Yoichiro Arai, CPM
Director CSO
Rease Co., Ltd.
Shinjuku-Ku, Tokyo
Since earning his CPM designation in Japan, Yoichiro has shared his successes through seminars and articles, gaining more exposure and cred-ibility in his career and, just as impor-tantly, conveying his experiences to other up-and-coming pro-fessionals in the real estate management industry.
Eugene Ballantine, CPM
Senior Financial Analyst
Cresa Global Inc.
Chicago
Eugene is working towards his master's degree in real estate from Georgetown University while also working full time, where he combines his financial acumen, property management experience and client services expertise to build relationships and provide excellent industry support.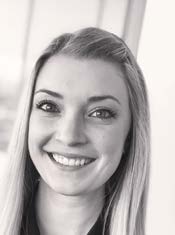 Natalie Bell, CPM Candidate
Director of Operations
Seattle Apartment Managers
Seattle
Her position at the young and fast-grow-ing company Seattle Apartment Manag-ers gives Natalie the chance to wear many hats, ensuring the company's portfolios perform to their full potential while simul-taneously balancing the needs of residents, owners and vendors.
Lindsay Bonilla, CPM Candidate
Property Manager
Draper and Kramer, AMO
Chicago
Lindsay co-founded DK Elevate, a professional development program designed to foster high-performing and high-potential talent at Draper and Kramer. She is also part of IREM's Next-Gen CPM Leaders 2018–2019 cohort.
Taylor Brittain, CPM Candidate
Assistant Property Manager
Ciminelli Real Estate Services of Florida, AMO
Tampa, Fla.
In addition to over-seeing the day-to-day operations of a 700,000-square-foot portfolio that includes retail, industrial, office and medical office assets, Taylor has spearheaded special projects within Ciminelli, such as the implementation of technology to improve departmental efficiency.
Megan Bryant, ACoM
Asset Manager
Virginia Housing Development Authority
Henrico, Va.
Megan's entry into property manage-ment was through the Virginia Tech Residential Property Management pro-gram. Highly engaged in the IREM Central Virginia Chapter, she now serves as vice president of public relations and received the chapter's ACoM of the Year Award in 2018.
Cassie Carothers, Associate Member
Regional Commercial Property Manager
Red Tail Acquisitions, LLC
Carmel, Ind.
Cassie manages seven company-owned industrial and flex office buildings, totaling 717,217 square feet across three states. Her colleagues applaud her for the high levels of personal ethics and integrity that she instills into all her business projects, transactions and relationships.
Katie Ciechanowicz, CPM Candidate
Property Manager
Chano Real Estate Partners, LLC
Indianapolis
An energetic leader within the IREM Indianapolis Chapter, Katie now welcomes newcomers to IREM in her role as new members chair. She also has contributed to her community by serving on the Heroes for the House 5K committee, benefiting the Ronald McDonald House of Indiana.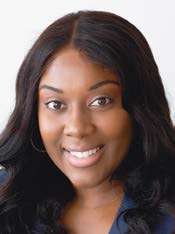 Ariana Dasher, CPM Candidate
Property Manager
Residential, AMO
Tenafly, N.J.
Ariana has full operational account-ability for a multisite portfolio of 538 units and has maintained an average portfolio occupancy of 96 percent or better. Colleagues describe her as hard-working, dependable and dedicated to the industry.
Alexandra Harpold, CPM Candidate
Commercial Property Manager
Arcadia Management Group, Inc., AMO
Phoenix
Alexandra manages a portfolio compris-ing approximately 500,000 square feet of commercial property while supporting more than 200 tenants and 10 owners. She is on the path to the CPM designation through IREM's Next-Gen CPM Leaders program.
Breanna Hemple, CPM
Regional Manager
Alliance Residential, AMO
Draper, Utah
Breanna is responsi-ble for maintaining seven lease-up and stabilized communi-ties comprising 1,800 units across a range of garden-style, midrise and mixed-use proper-ties. She is a certified coach for the Alliance ELEVATE Program, hand-selected to train in the assistance of associates in their pro-fessional development.
Brian Hill, CPM Candidate
Property Manager
Wakefield, AMO
Charlotte, N.C.
Brian effectively combines immersion in industry activities— he's on the IREM Legislative and Public Policy Committee and chair of Cushman & Wakefield's Future Leaders Program—with managing a diverse 1-million-square-foot portfolio of Class A downtown and suburban office and industrial assets.
Amy-Nicole Johnson, CPM Candidate
Assistant Property Manager
Brookfield
Houston
Amy-Nicole effec-tively mixes industry involvement with work obligations. She is an active member of the IREM Houston Chapter, having served on its Community Involvement and Young Professionals Committees, among others, while being part of the Brookfield property management team.
Mackenzie Jones, Associate Member
Director of Operations
Redstone Residential, AMO
Provo, Utah
As the director of operations for Redstone Residen-tial, Mackenzie has the opportunity to participate in a broad scope of activities. He recruits and trains regional managers and directly oversees three of them and their portfolios—totaling 7,322 beds in student housing—while also managing the relationships of some of the company's largest clients.
Ula Jun, CPM Candidate, ARM
Property Manager
Blanton Turner, AMO
Seattle
Ula has leased up and managed The Publix Seattle, a 131-unit mixed-use property in Seattle's Chinatown/International District, managed Alley 111 (259 units/mixed-use) in downtown Bellevue, and now is managing Arrivé, a brand new 41-story residential high-rise with adjoining boutique hotel and restaurant in down-town Seattle.
Larissa Laiti, Associate Member
Senior Property Manager
Kettler, AMO
Fairfax, Va.
After graduating from Virginia Tech, Larissa joined Kettler's Manager in Develop-ment Program and has continued to grow within the company ever since. She is a 2018 winner of Delta Associates' award for Best Adaptive Reuse Lease-Up Community for her work at Legacy West End. 
Devin Matthijssen, ARM
Property Manager
Capodagli Property Company, LLC/ Meridia Living, LLC
Bound Brook, N.J.
Devin comes to his current role as prop-erty manager having started as a leasing agent and working diligently to develop his skills and advance in the industry. He currently is directing the completion and lease-up of a 106-unit luxury building while also maintaining a 240-unit luxury building that is at 98 percent occupancy.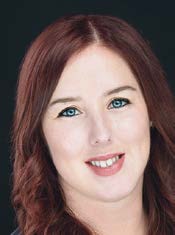 Miranda Mcarthur, CPM Candidate, ARM
Regional Manager
Roscoe Properties, AMO
Austin
Miranda supervises eight properties, a diverse portfolio of distressed Class B and student housing communities total-ing 1,061 units. She relocated temporarily to Florida from 2018 to 2019 to assist in the creation of a presence for Roscoe Properties in a new market.
Vivian Mcleod, CPM Candidate
Associate Property Manage
LeFrak Organization
Pompton Lakes, N.J.
Vivian initially thought she wanted to go into law until she discovered the property management industry and realized she loved it so much she wanted to be a part of it. Since then, she has thrived in her work and now man-ages 18 employees and 605 units in four buildings.
Ashley Moore, CPM, ARM
Senior Property Manager
LumaCorp Inc, AMO
Denton, Texas
Her first position at LumaCorp was that of leasing agent, and thanks to her passion and skill, Ashley has been promoted through the years to her present role of senior property manager. Ashley pays it forward by peer mentoring new or recently promoted assistant managers and property managers to help them succeed.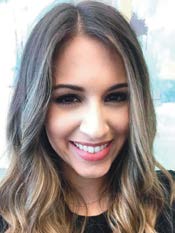 Amy Munoz, CPM Candidate
Assistant Property Manager
Stream Realty
Houston
In 2018, the IREM Houston Chapter awarded Amy with its Breakout Member of the Year distinction. She recognizes how vital it is in business to build and maintain strong relationships, so she strives always to anticipate and accom-modate customers' needs and continually works to enhance tenant relations.
Ekaterina Muraveva, Associate Member
Assistant Property Manager
Colliers International, AMO
Norfolk, Va.
While working full time at Colliers International (formerly known as CBRE Hampton Roads), Ekaterina earned her Bachelor of Science degree in business administration. In 2017, she was also the recipient of the company's Hampton Roads region Rookie of the Year Award.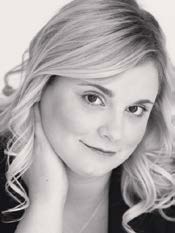 Megan Nagel, CPM Candidate, ACoM
Real Estate Manager
Hendricks Commercial Properties, LLC
Indianapolis
Hendricks has recognized Megan's potential via promotion within its ranks, and now she's managing
the mixed-use Bottleworks District project in Indianapolis. She also participates in regional residential work and technological rollouts, all while keeping active within her community.
Shamil Porto, CPM, ARM
Property Manager
FirstService Residential–Cityline Division
Bronx, N.Y.
Colleagues describe Shamil as hardworking, ethical, diligent and caring when it comes to his work in property management and his involvement in the community. With solid knowledge in both team and building management, he's gained a reputation as someone who goes above and beyond to ensure everyone, fellow workers and the tenants of the properties he oversees alike, are taken care of to the highest possible standards.
Sarah Shezi, CPM Candidate
Junior Estate Manager
Broll Property Group
Johannesburg
Thanks to her hard work and great potential, Sarah was selected to participate in Broll's Future Leaders Program, where she worked closely with the executive management of the Occupier Services division and restructured its internship program. She is the chairperson for the Liberty Building body corporate, located in Johannesburg, and performs the role of secretary for the IREM South Africa Gauteng Chapter.
Brittny Sovich, Associate Member
Senior Property Manager
Worthe Real Estate Group
Burbank, Calif.
In her current role, Brittny is responsible for managing property operations for 623,411 square feet of Class A office and retail space in Burbank. Formerly she was at CBRE, which recognized her with its Asset Services Young Professional of the Year award in 2014 and its Team Player of the Year for Greater Los Angeles/Orange County in 2013.
Elizabeth Taylor, ACoM
Training Director & Assistant Portfolio Manager, Commercial Property Services
Griffis Blessing, Inc., AMO
Colorado Springs, Co.
Griffis Blessing sees Elizabeth as a standout contributor and gave her its Team Player of the Year award last year. She has been the recipient of two IREM Foundation scholarships and serves on the board for the IREM Southern Colorado Chapter.
Robby Waldrop, CPM Candidate
Area Operations Manager
The Scion Group
Northport, Ala.
More than 4,000 bedrooms across six student communities in two tier-one universities are under Robby's oversight. Robby was IREM's Student of the Year in 2013 and today is actively involved in the IREM Alabama Chapter, now serving as its Student and Academic Outreach Committee chair.
Navigating benchmarking laws and building performance standards in the midst...